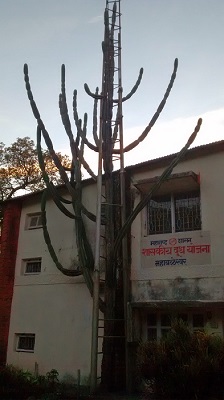 Cactus in the premises of the Government Milk Scheme office is around 38 feet tall. This cactus was planted in 1995.

Limca Book of Records
In 2001, this cactus made entry into Limca Book of Records as Tallest Cactus in India. This 20 year old Cactus has seven branches and it is still growing.

Note: Bee Keeping Centre and Tallest Cactus are very close to each other at around 100 meters. I definitely recommend you to visit both these places during your Mahabaleshwar Visit.

Location
This Cactus is located around just 1 KM away from Mahabaleshwar Bus Stand on the way to Old Mahabaleshwar near Hotel Uday.
Next Page:
Bee Keeping Centre