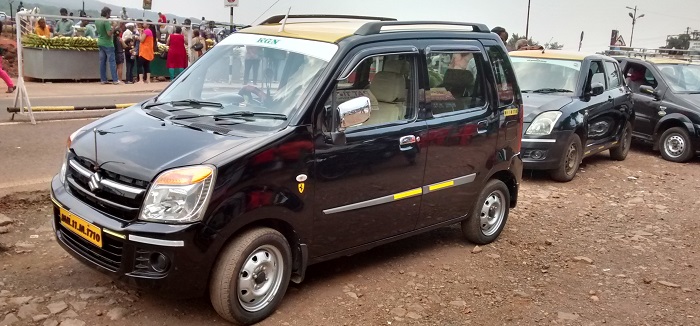 Mahabaleshwar Taxi service for sightseeing or local ferrying is centrally regulated so is reliable. Taxi can be booked and boarded at Bus Stand or at hotel.
Taxis offer pre-defined 7 tours for local sightseeing and Local Drops (as mentioned below).
Mahabaleshwar Taxi Union office is in front of ST Bus Stand. It is open till 08:00 PM in the evening.
Phone Numbers: (02168) 260931, 8275928275
Below are Mahabaleshwar Sightseeing Taxi tour details like Signts, duration and rates.
Duration: 2.5 hrs

Tariff: Rs. 550

Sights covered:

Arthur's Seat, Window Point, Tiger Spring, Echo Point, Hunter Point, Malcom Point
Old Mahabaleshwar
Castle Rock Point
Savitri Point
Monkey Point
Marjori Point
Elphinstone Point

Duration: 2.5 hrs

Tariff: Rs. 550

Sights covered:

Kate's Point, Echo Point, Needle Hole Point
Lodwick Point, Elephant head Point
Sunset Point (Mumbai Point)
Duration: 2.5 hrs

Tariff: Rs. 550

Sights covered:

Wilson Point
Ganesh Temple, Plato Point, King's Chair
Lingmala Waterfall
Venna Lake (Return/Last Stop)

Duration: 3 hrs

Tariff: Rs. 1000

Sights covered:
Duration: 2.5 hrs

Tariff: Rs. 700

Sights covered:

Parsi Point
Table Land
Bhilar Waterfall (Only Monsoon)

Duration: 3 hrs

Tariff: Rs. 1000

Sights covered:

Parsi Point
Table Land
Bhilar Waterfall (Only Monsoon)
Sydney Point
Wai (Shree Ganesh, Shree Kashi, Vishweshwar Temples)
Duration: 3 hrs

Tariff: Rs. 1000

Sights covered:

Any Local Place within 2 km range: Rs. 80/100
Venna Lake (One Way): Rs. 80/100
Old Mahabaleshwar (Return): Rs. 300
Wilson Point (Sunrise - Return): Rs. 300
Mumbai Point (Sunset - Return): Rs. 300