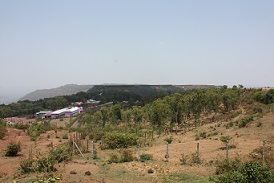 Panchgani has few good hotels mainly because tourist attractions in Panchgani are less than in Mahabaleshwar.

One problem you may face nowadays is that of traffic. If you start from Mahabaleshwar to your Panchgani hotel in the evening, you might get stuck in traffic at 2 places, one at Venna lake and one at Shivaji Chowk (Panchgani). It may take 1 hour to travel 25 km and you might fell exhausted on a trip, you want to relax.

I would still recommend staying in Panchgani as one can find few good hotels deals. However, preferred stay would still be at Mahabaleshwar or Mahabaleshwar-Panchgani road.