Rating: **1/2 (2.5 stars)
Location: Panchgani-Mahabaleshwar Road
Popularity: Average (2.5 stars as mentioned above) This is not a must visit place.
Velocity Entertainmentz is a theme park on Mahabaleshwar-Panchgani road. Unlike On Wheelz which is mainly targetted for children under 10 years old, Velocity entertainmentz has many outdoor games targetted for grown up kids or adults.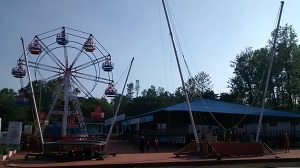 Outdoor Games
The outdoor games like Go-karting, Gyroscope, Hanging Merry Go-Round, Train, Zorbing Ball and Drop Tour-18 Sector are available.

Indoor Games
Indoor games include Air Hockey, Dashing Cars, Basket Ball and HeliCopter.
Food
Velocity Entertainmentz premises also has a couple of restaturants - Temptation and Pallaudium. Temptation is a pure vegetarian restaurant serving in Indian and Italian cuisine. Pallaudium is non-vegetarian restaurant which serves Chicken, Mutton, Kabab, Biryani and Tandoori delicacies.

ATM
The park has a SBI ATM facility.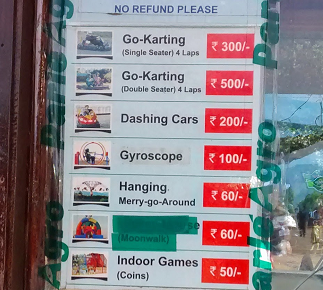 Next Page:
On Wheelz