Old Mahabaleshwar is also known as Kshetra Mahabaleshwar. Old Mahabaleshwar is about 6 km from Mahabaleshwar. This holy and sacred place has 3 temples: Panchganga temple, Mahabaleshwar temple and Krishna temple.
Panchganga Temple

The Panchganga Temple is constructed at the convergence of five rivers Krishna, Venna, Savitri, Koyna and Gayatri. It is believed that five rivers originate from gaumukhi inside Panchganaga temple.

The temple was constructed in the 13th century by Yadava King Singhandeo. The construction improvement of the Panchganga Temple was done during the 16th and 17th Century by Chanda Rao More and Chhatrapati Shivaji Maharaj. Panchganga temple in old Mahabaleshwar is said to be 4500 years old. However, there is no historical evidence of this fact.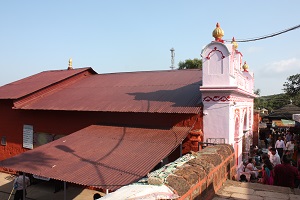 Mahabaleshwar Temple

Mahabaleshwar Temple is built in 1215 AD as per historical records. This temple is built in Hemadpanti style.

The temple houses Shiva's bed, damru and trishul which date back to approximately 300 years. It is believed that every morning, the bedsheet is found crumpled indicating Shiva's presence at night within the temple.

Ramdasi Math: Beside Mahabaleshwar temple is Ramdasi Math which has a copy of Dasbodh. Samarth Ramdas himelf had edited (corrected) this dasbodh copy.

Krishna temple which is 1 km away from Panchganga temple is built in Hemadpanti style, In front of the Krishna temple is Krishna valley. As per mythology, Krishna river had jumped from this place.
Next Page:
Wilson Point