Lingmala Waterfall is a major attraction in mahabaleshwar on the Venna river. Lingmala Waterfall is located on the satara road via medha at 6 km away from Mahabaleshwar bus stand. Its altitude is approx 1278m.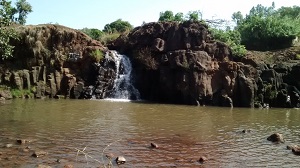 The region has two waterfalls, one mini waterfall and one main waterfall which falls from the height of 500 feet. The photo above is main waterfall and phot on the right is mini waterfall. These two waterfalls offer charming picturesque image of cascading waters.

July to October is best time to visit the waterfall. Forest department charge Rs. 10 for visit to the waterfall.
Lingmala waterfall area also has wild animals like Giant Squirrel. I was lucky enough to see Giant Squirrel during my visit to Lingmala Waterfall.
Next Page:
Lodwick Point