Arthur's Seat is the most popular point in Mahabaleshwar. Although, popularly it is called as Queen of the Points, original name of the point is Madhi Mahaal. Located at around 13 KM from Mahabaleshwar Market, Arthur's Seat point is at height of 1470m.
Note: Arthur's Seat Point area has 6 points in total viz Arthur's Seat Point, Echo Point, Hunter Point, Tiger Spring Point, Window Point and Malcom Point.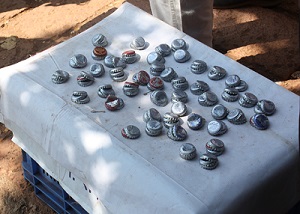 Arthur's Seat Point
Arthur's Seat is famous for floating of light objects. If you throw light things like cold drink cap in the valley, it comes up again due to air pressure.

This point is named Arthur Malet who lost his wife and 1 month old daughter in a tragic ferry accident in Savitri River. Arthur used to sit here and stare at the river.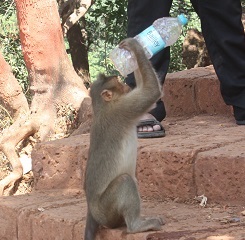 From Arthur's Seat Point, one can see picturesque vista having Kokan on one side and Desh (Deccan) on the other. The stratification of rocks on southern side look like world famous Grand Canyon of Colorado. Beware of Monkeys here as they can grab your food or water (if kept unattended). Monkey grabbed our water bottle and made hole in the bottle to drink.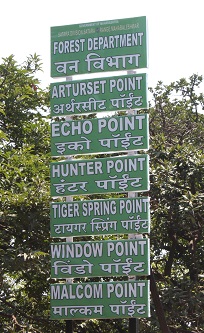 Echo Point
Echo Point returns back one's voice when shouted loudly into the valley. There is one more Echo Point in Mahabaleshwar at Kate's Point which is more popular of the two.
Tiger Spring Point
Tiger Spring Point has spring having natural cool and safe potable water. Wild Animals used to drink water here. Original name of this point is Gayatri Taake
Window Point
Window Point is in front of Arthur's Seat Point. It got its name because of its naturally formed window shaped mountain.
Hunter Point and Malcom Point
Hunter Point as its name suggests was used for hunting by British Officers.
Malcolm Point is a great place to view Toranagad, Pratapgad and Savitri Valley.
Corn or Bhutta, Kanda Bhaji etc snacks items are available here.

Next Page:
Kate's Point