Lodwick Point is situated about 5 km west of Mahabaleshwar Bus stand. Previously this point was known as Sydney Point. The point was rechristened in the honour of General Lodwick, who was the first British officer to climb the hill in April 1824. Original name of the point is Domeshwar.
Note: Lodwick Point area has 2 points in total viz Lodwick Point and Elephant Head Point.
Note: Kate's Point and Needle Hole Point are often confused with Elephant Head Point which is near Lodwick Point.

To honour General Lodwick's achievement, his son erected a memorial pole of about 25 ft. At the base of this monument, the head of the General is sculptured in marble. This point is 4087 feet above sea level. This point offers unmatched views of the Pratapgad Fort and Elphinstone Point at a distance.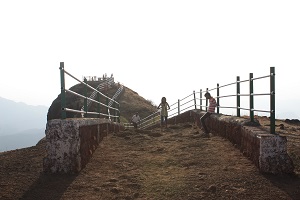 Elephant Head Point
Near Lodwick Point, extended front part of hill looks like Elephant Head. Hence, this point is known as Elephant Head Point.


Next Page:
Plato Point